Caring for your child's eyes together with Menicon Bloom Night™ Orthokeratology Lenses
What is Myopia?
Myopia, also known as near-sightedness or short-sightedness, is one of the most common eye conditions in the world. If you have myopia, you can see things close to you clearly but objects that are far away are blurry. It is anticipated that by 2050, 50% of the world's population1 will have some form of myopia leading to the talk of a "myopia epidemic".
Myopia is caused by how the eye grows. If your eye grows too long in length, images will not focus correctly on your retina (the back of your eye). In most cases, this vision problem is rectified with glasses or contact lenses with negative powers to move the focus onto the retina. However, the underlying problem – the eye growing in length – is not treated.
The risks
Not addressing myopia early is a missed opportunity as, particularly in children, vision may continue to deteriorate to more severe levels of myopia. Higher amounts of myopia are associated with several eye conditions such as glaucoma, myopic macular degeneration, and retinal detachments. In the most severe cases, these conditions can lead to permanent vision loss. This is why it is important to identify and treat myopia progression early.
Slowing myopia progression through myopia control
Getting myopia under control – by slowing the growth in length of the eye – is precisely what we aim to do with the Menicon Bloom treatment plan. We do this with the help of specially designed contact lenses.
Menicon Bloom Night™
The orthokeratology lenses that are part of the Menicon Bloom treatment plan are called Menicon Bloom Night lenses. They help slow the progression of myopia while also correcting your vision. You wear the lenses while you sleep and the lenses gently reshape the outer layer of your cornea. This new shape of the cornea affects how images focus on your retina and can slow the growth of the length of your eye, therefore, reducing the amount of myopia you develop.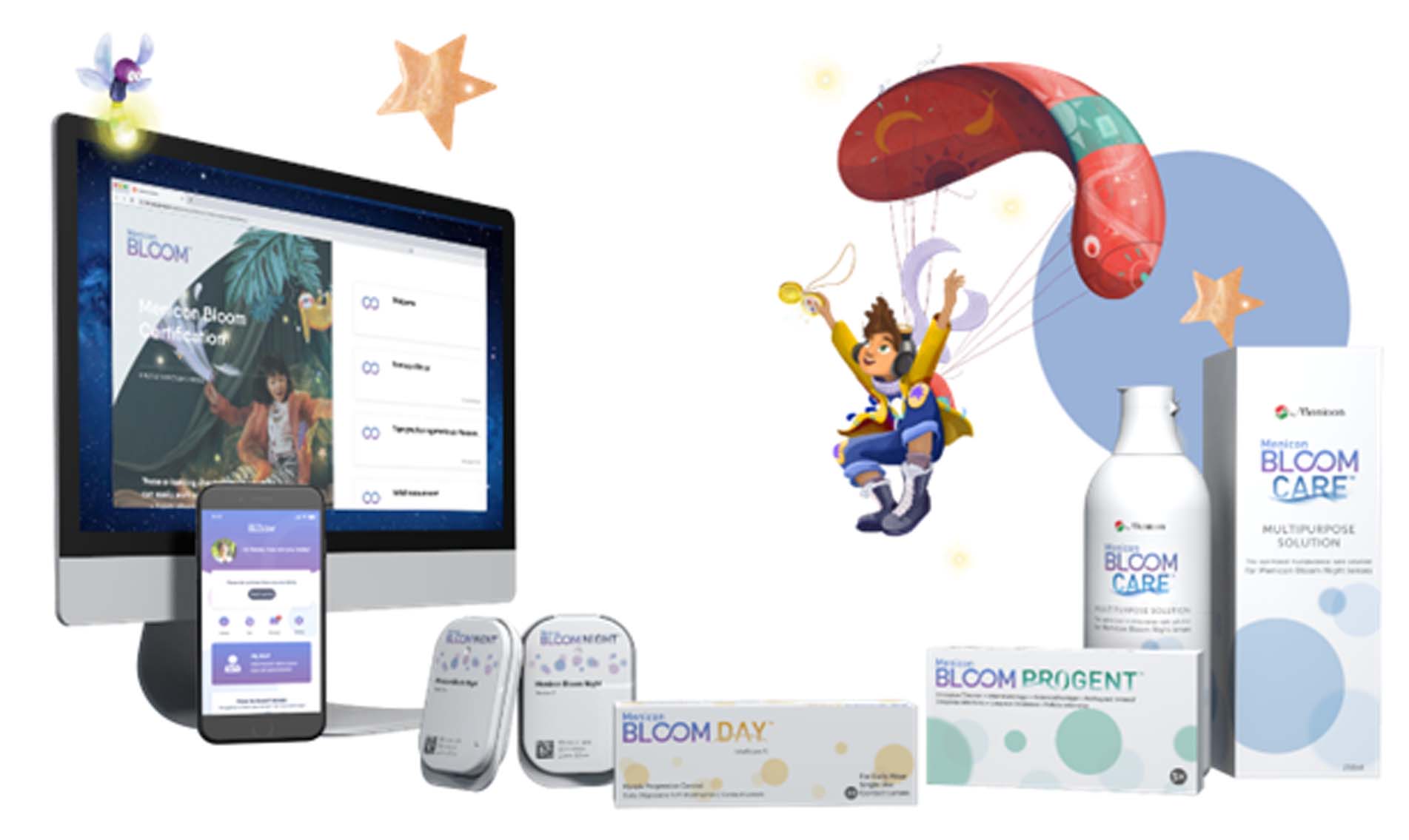 On top of all this, it also means you can see clearly* throughout the day without glasses or contact lenses! The lens care solutions to keep your lenses in perfect condition are also included: Menicon Bloom Care and Menicon Bloom Progent. *Depending on myopia condition and visual requirement. Please consult your Eye Care Professional for more information and advice.
Menicon Bloom Day™

Menicon Bloom Day is a soft contact lens that you wear during the daytime and replace every day. Because of this, Menicon Bloom Day is super hygienic and hassle-free. You won't even need any lens care solutions. Menicon Bloom Day has a unique, patented design that slows the growth of the length of the eye. The lens alters the way light enters your eye and affects how images focus on your retina. The growth of your eye is thus restricted which in turn reduces the amount of myopia you develop. Menicon Bloom Day lenses will correct your vision as well, giving you perfect vision while wearing them.
What can you do for yourself?
Play Outside
Exposure to daylight has been shown to help prevent the development of myopia. It is also believed to have a positive influence on restricting the development of existing myopia. So, it is recommended that you go outside for at least 2 hours every day
Limit short-distance focus
Maintaining a constant focus at a very short distance is believed to be a contributing factor in the development of myopia. Your eyes work hard to see clearly when you're reading, playing a game on your mobile phone, or watching videos on your tablet. Take a short break (at least 20 seconds) every 20 minutes to give your eyes a rest.
See an eye care professional
Qualified eye care professionals can identify myopia with a simple eye test. Your eyes undergo a great deal of development when you are young. Monitoring this development is necessary so that appropriate treatment can be started as soon as possible in order to prevent potential future vision problems. Having regular eye checks with an eye care professional is very important.
1. Are Menicon Bloom™ lenses safe?
Menicon Bloom Night™ - Ortho-K Night Lens
Menicon Bloom Night™ has met the highest standards of safety, efficacy, and quality to grant the treatment CE approval for myopia control.
Based on scientific studies, there appears to be no additional risk of adverse events (eye inflammations and infections) when contact lens wear begins as a child (aged 8–12 years) compared to as a teenager.2
Results of research about safety can be summarized as follows: if you wore your contact lenses every day for 1,000 years (reusable soft CL or orthokeratology) or every day for 5,000 years (daily disposable CLs) you'd be likely to get one eye infection.2, 3, 4
Menicon Bloom Day™ - Daily disposable contact lenses for Kids
Menicon Bloom Day™ can be safely worn by children.
Comprehensive scientific evidence collected over the years has supported the efficacy, safety, and acceptance of Menicon Bloom Day™ as a successful treatment option for myopia control management.
The latter has been independently confirmed by notified bodies in Europe granting the treatments CE approval for the specific indication of myopia control.
No significant or serious ocular adverse events (MK) were reported among 581 myopic children wearing daily disposable hydrogel contact lenses.5
The incidence of corneal infiltrative events in children is no higher than in adults, and in the youngest age range of 8 to 11 years, it may be markedly lower.2
After 6 years of NV (MBD) wear, myopic children show a slow-down progression by approximately 85%.6
2. What is CE mark and why is it important?
Prescribing a licensed product outside the approved scope of use is called 'off-label' prescribing. In this case, this scope is "Myopia Control" or "Myopia Management". When prescribing treatment for myopia control, your eye care professional should ideally start by considering all on-label products that may be available and only contemplate off-label prescribing if there are no on-label options or if approved products are not effective or appropriate. In off-label prescribing, you must be adequately informed about the lack of product authorization and the possible existence of unknown risks. As parents and/or legal guardians you should be informed of all options and associated risks in order to decide whether your child should be treated with a tested and approved on-label treatment or with an off-label treatment that might give a successful result but has unknown risks.
3. Can I use other lens care products instead of Menicon's?
We strongly recommend the use of the Menicon Bloom™ lens care products. This solution "combo" provides incredible cleaning and disinfecting efficacy for Menicon Bloom Night™ lenses.7 Both products also have a long history of safe use in the eye making them ideal. In addition, the Menicon Bloom Care™ bottle is easier to squeeze and designed with young patients in mind. Menicon Bloom™ Progent has simple instructions and individual doses. Menicon Bloom Care™ disinfecting efficacy also begins after 5 minutes8 in contact with lenses and Menicon Bloom™ Progent highest efficacy is achieved within only 30 minutes.9
4. If my child is wearing another brand's orthokeratology lenses, can I convert my child to Menicon Bloom Night™?
Yes. As orthokeratology is a reversible technique, if your child stops wearing the lenses for a certain period of time, the eye will revert to its original shape. At that time, your eye care professional will be able to calculate Menicon Bloom Night™ lenses for your child.
5. If my child's myopia is already high, can I still take on the program?
That's one of the benefits of Menicon Bloom™! It includes two types of lenses, so a wide range of prescriptions can be covered. Your eye care professional will help you determine which is the best option for your child: Menicon Bloom Night™ or Menicon Bloom Day™.
6. What is the minimum age to start Menicon Bloom™?
There's no minimum age to start. Your eye care professional will inform you about the perfect time depending on several circumstances, such as your child's myopia, age, or maturity level.10, 11
References:
1. Holden BA, Fricke TR, Wilson DA, et al. Global prevalence of myopia and high myopia and temporal trends from 2000 through
2050. Ophthalmology 2016;123(5):1036-42.
2. Bullimore M. The Safety of Soft Contact Lenses in Children Optom Vis Sci 2017;94:638Y646
3. Santodomingo-Rubido J, Villa-Collar C, Gilmartin B, Gutiérrez-Ortega R. Orthokeratology vs. spectacles: adverse events and discontinuations. Optom Vis Sci. 2012 Aug;89(8):1133-9.
4. Liu YM, Xie P. The Safety of Orthokeratology--A Systematic Review. Eye Contact Lens. 2016 Jan;42(1):35-42.
5. Xu Cheng, Noel A. Brennan, Youssef Toubouti and Nathan L. Greenaway Safety of soft contact lenses in children: retrospective review of six randomized controlled trials of myopia control Acta Ophthalmol. 2020 May;98(3):e346-e35.
6. Cooper J, O'Connor B, Aller T, Dillehay SM, Weibel K, Benoit D. Reduction of Myopic Progression Using a Multifocal Soft Contact Lens: A Retrospective Cohort Study. Clin Ophthalmol. 2022 Jul 4;16:2145-2155.
7. Hiraoka T, Yoshimitsu M, Santodomingo-Rubido J, Kondo H, Oshika T. A novel quantitative evaluation of deposits adhered to worn orthokeratology contact lenses. Jpn J Ophthalmol. 2021. 65(6):855-863.
8. Boost M, Cho P, Lai S. Efficacy of multipurpose solutions for rigid gas permeable lenses. Ophthalmic Physiol Opt. 2006 Sep;26(5):468-75.
9. Menicon data on file
10. Chua SY, Sabanayagam C, Cheung YB, Chia A, Valenzuela RK, Tan D, Wong TY, Cheng CY, Saw SM. Age of onset of myopia predicts risk of high myopia in later childhood in myopic Singapore children. Ophthalmic Physiol Opt. 2016 Jul;36(4):388-94.
11. Tideman JWL, Polling JR, Vingerling JR, et al. Axial length growth and the risk of developing myopia in European children. Acta Ophthalmol. 2018;96(3):301-309.